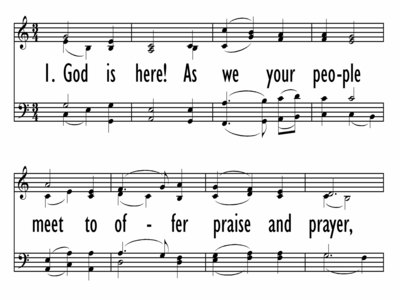 GOD IS HERE
First Line:
God is here! As we your people meet to offer praise and prayer
Songbook: Gray Psalter Hymnal
Page Number: 516 to Singing the New Testament 233
Song Key: C
Language: English
Authors: Fred Pratt Green, Cyril V. Tayler
Additional Information
words 1979 Hope Publishing Co music 1942 Ren. 1970, Hope Publishing Co.
This song is licensed by more than one licensing service. To legally project/copy this song, you must have at least ONE of the licenses listed below:
— A CCLI license
For more information or to purchase a license, contact www.ccli.com
— A OneLicense license
For more information or to purchase a license, contact www.onelicense.net
Login