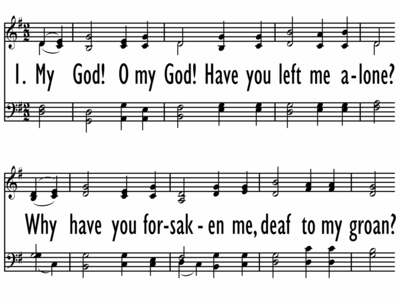 MY GOD! O MY GOD!
First Line:
My God! O my God! have you left me alone?
Songbook: Gray Psalter Hymnal
Page Number: 22 to Gray Psalter 500
Song Key: G
Language: English
Authors: Calvin Seerveld, J. Funk's "A Compilation of Genuine Church Music"
Tune Name: FOUNDATION
Themes: Psalm 22
Additional Information
words Calvin Seerveld harm 1987 CRC Publications/Faith Alive Christian Resources
Copyrights
Calvin Seerveld
Faith Alive Chr. Res.
A CCLI license is required to legally project/copy this song. For more information or to purchase a license, contact www.ccli.com
Login