IMPORTANT NOTE: Please download the free samples of songs before purchasing this collection.
The songs in the collection are SONGS WITH NOTES FOR PROJECTION. These are NOT lyrics or sheet music files.
ALL SALES OF COLLECTIONS ARE FINAL - NO REFUNDS
These are digital products that can't be returned.
Hymns for the Family of God
A great resource as well as a congregational book of worship. This comprehensive compilation by Fred Bock employed the assistance and recommendations of over 40 pastors, musicians and laymen, and cooperation by scores of authors and publishers. It was also the first-time use of the songs "He Touched Me," "The Lord's Prayer" and "It Is No Secret," now considered hymn standards. Congregational readings contain scripture passages selected from among 20 respected Bible versions and appropriate inspirational writings by Billy Graham, C.S. Lewis, Peter Marshall, Charles Allen and Oswald Chambers, among others. Over 50 optional last-verse harmonizations or descants add to the beauty of these arrangements. This hymnal serves as a complete lexicon of music for the Church today, inspirational and functional to each member of the diverse family of believers.
Download a Free Sample
O For a Thousand Tongues to Sing Free Sample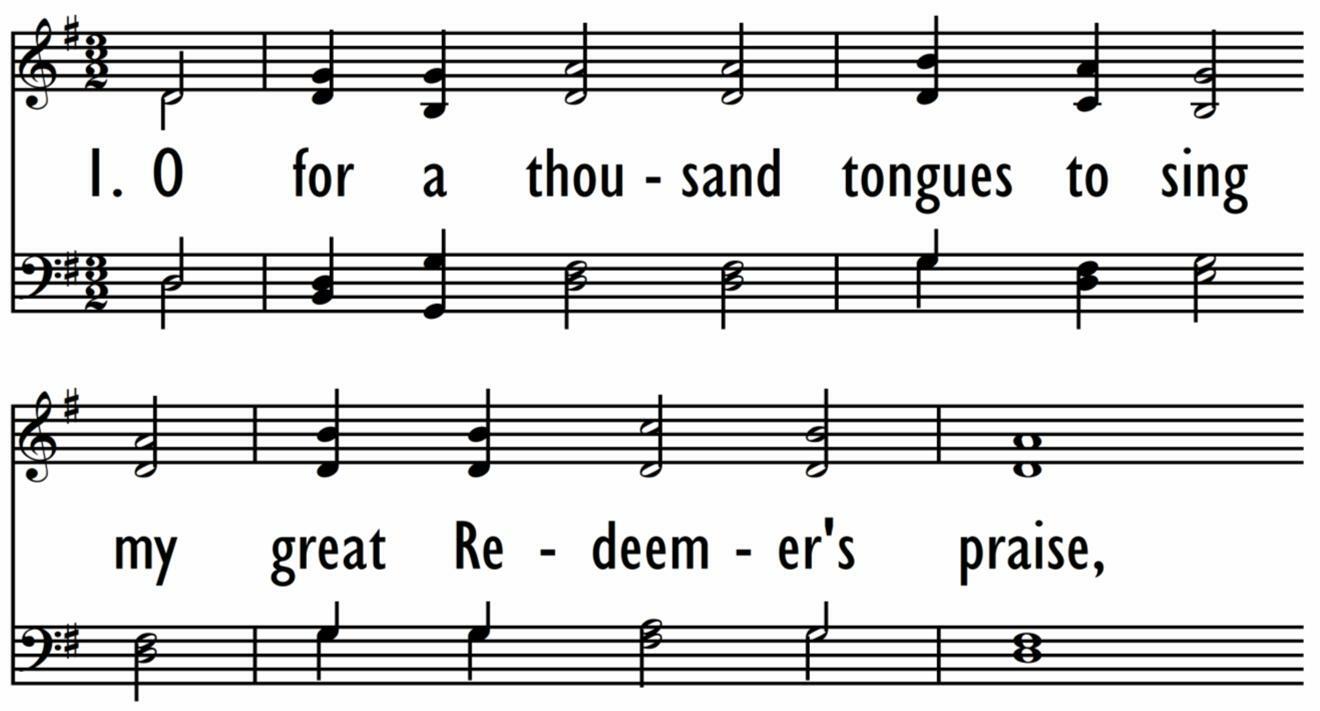 PowerPoint files included in this bundle:
A Mighty Fortress Is Our God (118)
Abide with Me (500)
All For Jesus (459)
All Glory Laud and Honor (249)
All Hail the Power of Jesus Name - Coronation (325)
All Hail the Power of Jesus' Name-Diadem (326)
Alleluia (361)
Amazing Grace (107)
Angels From the Realms of Glory (190)
Angels We Have Heard on High (192)
Are You Washed in the Blood (259)
As with Gladness Men of Old (202)
Away in a Manger (187)
Away in a Manger - lead line (185)
Be Still My Soul (77)
Be Thou My Vision (468)
Blessed Assurance (67)
Blessed Be the Name (352)
Cast Thy Burden Upon the Lord (53)
Christ Arose (298)
Christ for the Wolrd We Sing (686)
Christ We Do All Adore Thee (358)
Come Thou Fount of Every Blessing (318)
Come Thou Long-Expected Jesus (168)
Come Ye Thankful People Come (392)
Face to Face (128)
Fairest Lord Jesus (240)
Faith of Our Fathers (526)
For the Beauty of the Earth (1)
Give Of Your Best to the Master (516)
Gloria Patri (142)
Go Tell It on the Mountain - Lead Line (205)
God of Grace and God of Glory (528)
God Will Take Care of You (56)
Good Christian Men Rejoice (177)
Happy the Home When God Is There (540)
Hark the Herald Angels Sing (184)
He Is Lord (234)
He Lifted Me (653)
Here O My Lord I See Thee Face to Face (567)
Higher Ground (469)
Hosanna Loud Hosanna (248)
How Great Our Joy (182)
I Am Thine O Lord (455)
I Am Trusting Thee Lord Jesus (73)
I Cannot Tell (210)
I Know That My Redeemer Lives (295)
I Love to Tell the Story (619)
I Love Your Kingdom Lord (545)
I Need Thee Every Hour (443)
I Stand Amazed (223)
I Surrender All (408)
I Wonder as I Wander (183)
In Christ There Is No East or West (685)
In the Garden (344)
In the Hour of Trial (122)
It Came Upon a Midnight Clear (197)
It Is Well With My Soul (495)
Jesus I Come (401)
Jesus Lives and So Shall I (288)
Jesus Loves Even Me (225)
Jesus Loves the Little Children (15)
Jesus Paid It All (273)
Jesus Priceless Treasure (277)
Jesus The Son of God (269)
Joy to the World (171)
Joyful Joyful We Adore thee (377)
Just a Closer Walk with Thee (591)
Just As I Am, Without One Plea (417)
Let Us Break Bread Together (564)
Like a River Glorious (497)
Living for Jesus (462)
My Country 'Tis of Thee (695)
My Jesus, I Love Thee (456)
My Lord What a Morning! (316)
Near the Cross (254)
Nothing But the Blood (266)
O Come All Ye Faithful (193)
O For a Thousand Tongues to Sing (349)
O Little Town of Bethlehem (178)
Praise the Lord Ye Heavens Adore Him (335)
Redeemed (646)
Rock of Ages, Cleft For Me (108)
Savior Thy Dying Love (279)
Silent Night Holy Night (195)
Take Thou Our Minds Dear Lord (467)
Teach Me Your Way O Lord (472)
Tell Me the Old Old Story (16)
The First Noel (179)
The Light of the World is Jesus (636)
There Is a Green Hill Far Away (278)
This is My Father's World (6)
To God Be the Glory (363)
Trust and Obey (454)
We Are Climbing Jacob's Ladder (488)
We Gather Together (387)
We Plow the Fields and Scatter (395)
We Three Kings of Orient Are (206)
Where He Leads Me (607)
While Shepherds Watched Their Flocks (175)