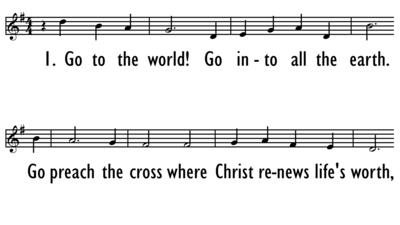 GO TO THE WORLD - Lead Line
First Line:
Go to the world! Go into all the earth
Songbook: Worship & Song
Page Number: 3158
Song Key: G
Language: English
Authors: Sylvia G. Dunstan,Ralph Vaughan Williams
Tune Name: SINE NOMINE
Preview lyrics not permitted under license agreement.
Includes Wide Format PowerPoint file!
A OneLicense license is required to legally project/copy this song. For more information or to purchase a license, contact www.onelicense.net
Login