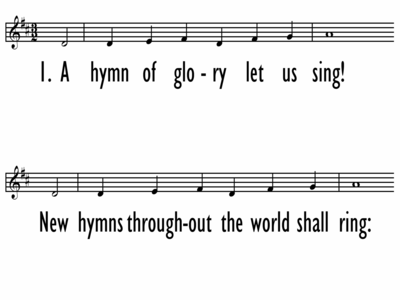 A HYMN OF GLORY LET US SING - Alternate Tune
First Line:
A hymn of glory let us sing! New hymns throughout the world shall ring
Songbook: Lift Up Your Hearts
Page Number: 208 to luyh 570
Song Key: D
Language: English
Authors: BedeAuserlesen Catholische Geistliche Kirchengesänge
Tune Name: LASST UNS ERFREUEN
Themes: Christ's ascension
Additional Information
words: tr. 1978 "Lutheran Book of Worship", admin. Augsburg Fortress
Includes Wide Format PowerPoint file!
A OneLicense license is required to legally project/copy this song. For more information or to purchase a license, contact www.onelicense.net
Login