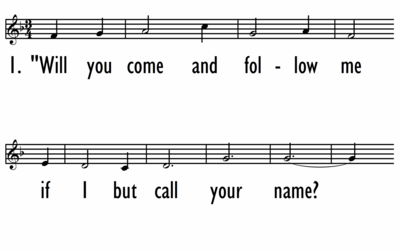 WILL YOU COME AND FOLLOW ME - Lead Line
First Line:
Will you come and follow me if I but call your name?
Songbook: Glory to God
Page Number: 726
Song Key: F
Language: English
Authors: The Iona Community, arr. John L. Bell
Tune Name: KELVINGROVE
Themes: Dedication to holy living
Lyrics not permitted under license agreement.
Includes Wide Format PowerPoint file!
A OneLicense license is required to legally project/copy this song. For more information or to purchase a license, contact www.onelicense.net
Login